Introducing Supportive Care at The Neighborhood: A Premier Full Service Health Care Community

Welcome to Supportive Care at The Neighborhood
The highest quality services and exceptional amenities are now available!
Every individual has their own story and their own needs. Sometimes help may be needed, but it is difficult to know the extent of assistance and the right place to receive it. Most people want to maintain the highest level of independence possible.
Supportive Care at The Neighborhood is designed to provide privacy and independence while supporting the resident with the services they need. We know how important it is for the resident, their family, and their personal care physician to find the right combination of supportive services and a suitable level of care.
Supportive Care at The Neighborhood is the health care component of New Mexico's first Life Plan Community. Typically, independent living residents of the Life Plan community have priority access to the quality services and exceptional amenities Supportive Care provides. However, since this is a newly opened community, we have availability and are accepting new residents directly into our assisted living, memory care and nursing care – with no entry fee – on a private pay basis. Medicare and other supplementary insurance policies are also accepted.
Please do not hesitate to contact us with any questions. We can help you with an evaluation to determine the appropriate level of supportive services needed.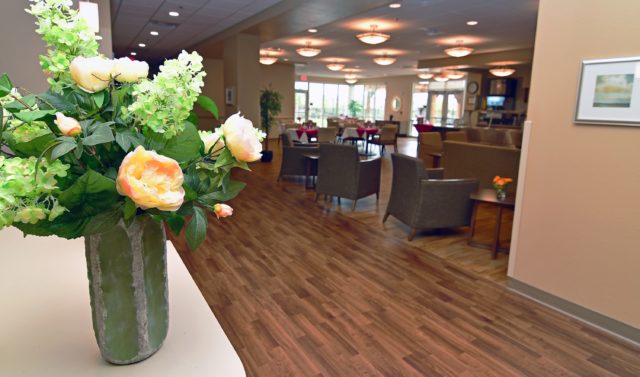 Quality care and peace of mind.
A major benefit of Supportive Care at The Neighborhood is having all levels of care on the same campus, should a resident ever require a higher level of care. We are able to accommodate the changing needs of a resident without having to relocate to a different facility.
Spacious, private apartments, delicious meals, meaningful activities, and supportive, professional care 24 hours a day, 7 days a week. All levels of care – Assisted Living, Memory Care, Nursing Care, Rehabilitation and Skilled Care.
Choosing what's right for you
Supportive Care at The Neighborhood has licensed Assisted Living, Memory Care, Skilled Care (Rehabilitation) and ongoing nursing care. Residents have varying needs of ongoing care:
Assisted Living is for those who need help to maintain their independence – but do not need full time nursing care.
Memory Care offers supportive services for those who have Alzheimer's or other dementia.
Nursing Care – Intermediate Nursing Care – is for those who cannot live alone and need daily nursing supervision.
Rehabilitation and Skilled Nursing Facility (SNF) is for those who are recovering from and illness of operation and under a care plan for them to recover and return to Independent Living.