99% of residents have been vaccinated against Covid and 100% of residents have been given the opportunity to receive the vaccine. Some people are unable to get the vaccine due to medical conditions. To ensure our residents are safe, we require all staff to be Covid-19 vaccinated.
Keeping residents connected
Our residents say they felt they weren't as isolated in their community during the Covid-19 pandemic as they would have been living alone outside the community. Shopping and home delivery services were provided as well as meal delivery to help keep residents as safe as possible.
Our staff works hard to provide our residents with care and services around the clock. To ensure our residents are safe, we require all staff to be Covid-19 vaccinated.
"Lucky we were here when the pandemic hit. We didn't have to go to the store to buy food because it's coming to your door… every day! Everything is provided for you."
Resident at Neighborhood Rio Rancho
Committed to safety
Ralston Creek Neighborhood has always followed all state and CDC health guidelines and recommendations and gone over and beyond to keep our residents safe. Thankfully, as our community has become fully vaccinated and learned to take simple precautions against Covid-19, things are starting to get back to normal. Activities and events are starting back up and our residents are so thankful to be part of a safe and protected community where they can continue to socialize and experience life together.
Our medical team has been working very hard to ensure everyone has access to the Covid-19 vaccine. Our team goes door to door to provide information and offer the vaccine to each of our residents. Currently, booster shots are being administered.

"Here at the Neighborhood, you have the freedom to enjoy life the way you want. We know we'll be taken care of and be able to socialize with other people."
Residents at Neighborhood Rio Rancho
Come see us!
If you would like to schedule a tour of our community, please call ahead to find out if in-person tours are currently being conducted. This can vary on a daily basis based on health guidelines. Virtual tours are always available. Please do not hesitate to contact us for more information. We're here to help!
Since recommendations and requirements can change rapidly on a daily basis, please check with our hospitality desk if you would like to visit someone in our community. You can schedule a visit and learn how you can help protect our residents while you are here.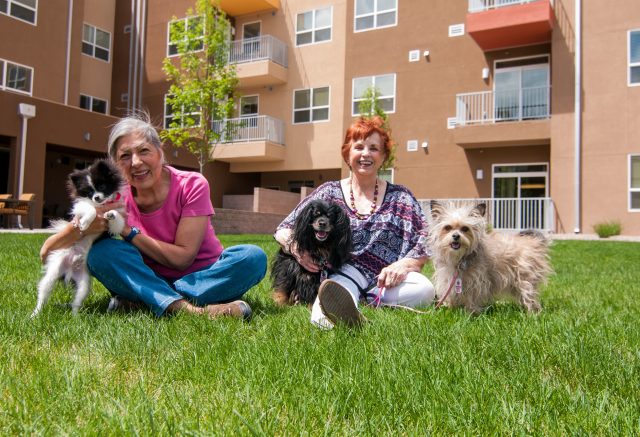 Updates to Covid-19 Response